"It's not about ideas. But about ideas that become reality. "
An idea that became reality in 1991 and has been successfully run for 28 years.
An idea strongly influenced by the entrepreneurial spirit of the interwar period forefathers,  the founders Florica and Mihai Dărmănescu, who started the story of DMF POLIPLAST in 1991.
A story full of work, passion, perseverance, with many challenges, with failures but with many more achievements.
A story that has gathered in the folders of the years where chapters have been written that have influenced it definingly.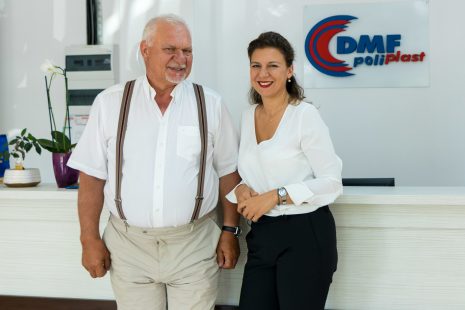 1996 – to beginning of plastic packaging production by purchasing the first polyethylene film extruder
1997 – the purchase of the first welding bags and bags
1998 – the purchase of the first 4-color printing machine
2005 -2006 – investment program to increase the extrusion and welding capacity
2007 – acquisition of the first six-color flexographic printing machine with central drum – SABA 6 SLV – Bielloni Converting SpA Italy
2011-2013 – an investment of approximately 4 million EUR consisting of the construction of a factory with an area of approximately 4000 sq m in the city of Focşani and the acquisition of new technological equipment: 8-color flexographic printing machine with central drum TELIA 8 FSC Gearless – Bielloni Convertig SpA Italy, JM Heaford flexographic climbing machine, JULIA Superstar laminator – Bielloni Converting SpA, volatile volatile compounds – RELOX Germany.
2016 – taking over the management of the company by Diana Dărmănescu, the daughter of Dărmănescu, strengthening the concept of family business
2018 -2019 – purchase and commissioning of a new generation of ONYX XS – Uteco Converting SpA Italy
Today we live our story with 90 employees and over 300 partners, customers and suppliers.
And the story goes on !!!